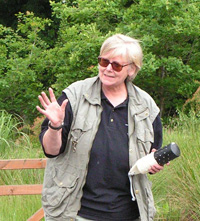 Obituary to Dr. Isabella Kraft
Born on April 10 th in 1949 at an traditional old fashioned farm not far off the lower Rhine valley Isabella (Bella) Benninghoff-Lühl learned much about farming, farm animals and wild life and loved it. Therefore, nobody had been astonished, as Bella got her first hunters license at the age of 18 and started studying Veterinary Medicine; finally, she promoted to a Doctor of Veterinary Medicine in 1974. In summer 1973, she married the young Veterinarian Friedrich Bruno Kraft.
In 1976, she and her husband started searching for a Labrador retriever, a difficult task in Germany in those years. They succeeded in getting "Grog vom Keien Venn" bred by Dr. Leni Niehoff-Oellers. With this faithful companion, Bella and Fritz made their walking trips and worked as hunters in the private hunting ground of the old Luehls Hof, the farm of Bellas parents.
In 1979, Bella bought "chocolate Yenni", a Labrador retriever bitch of English breeding. This started living going round in the little household of Bella und Fritz.
In the early 80th the first Labrador litter had been born in the newly founded kennel "aus Lühlsbusch" named after the woodland that belonged to Bella's parents farm the "Lühlsbusch".
There have been quite some litters within this kennel as a severe setback occurred as a few PRA-cases in dogs out of the "Lühlsbusch"kennel came out. In those years no DNA testing had been available nor any other instruments for detecting bloodlines that where affected. Therefore, Bella started collecting data world wide of affected dogs, using only the official announcements of the breed clubs, and digitalized the data to a breed program. After the enormous efforts of getting and sorting the information, she came out with a series of booklets, which could help other breeders to avoid certain bloodlines and to help on the way to better breeding.
After the implementation of reliable DNA – testing Bella stopped bringing out the booklets, but she never stopped working on her database. It has always been a pleasure for her, to help interested breeders that asked her and generously helped to improve breeding. As a team of friends, Bella took part in bringing out other books as "the workers" "Labrador 2000" and some more. With the booklets "Rambo auf Freiersfüßen" or the "Farbvererbung" she wanted to give further helpful information especially for newcomers in dog breeding. Just recently, she worked on pedigrees and ways of breeding between WW I and WW II.
Sad to say, Bella could not be there, as the puppies of our last litter went to their new owners. She died during the night from August 04 th to 05th 2017 at the end of a long lasting heart disease. I miss her sincerely.
In cause of the early death of my beloved wife, Dr. med. vet. Isabella Kraft, breeding has come to a standstill in the "Lühlsbusch" Kennel. Bella's efforts to breed good dogs will survive in the "Lühlsbusch" Labrador retriever and their progeny as well as in the fun and joy owners of these dogs have.